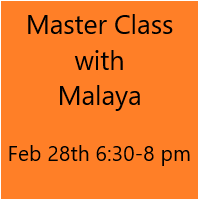 Malaya's classic lyrical movement is often described as
timeless. She has taught for LADF and EDGE for many
years and travels both nationally and internationally to
teach master classes and set choreography on companies in
Switzerland, Italy, New Zealand, Australia, Korea and
Japan. Among Malaya's video, television and feature film
appearances are Batman & Robin with George Clooney, a
music video for Betcha with Prince, The Tonight Show with
Jay Leno and an appearance with Celine Dion. Malaya's
choreography credits include many Los Angeles concerts as
well as the Houston Metropolitan Dance Company,
University of Oklahoma, Commonality Dance Company,
Naway Dance Company, and the Instincts Dance Company.
Ages 12 and Up, Levels 4/5 and Higher