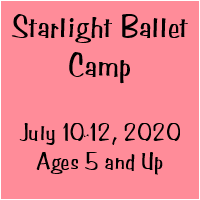 Taught by the ballet staff of
Starstruck, Starlight Ballet Camp
will have four levels this year.
Advanced and Intermediate/Adv
dancers will have 5 hours of
instruction, Intermediate will have
4 hours and the Juniors will have
3 hours of classes. For more
information or to sign up for
Starlight Ballet Camp please call
303-770-4480 or email
starstruck@saodance.com .
COVID 19 Release: An inherent risk of exposure to COVID 19 exists in any public place where people are present. We have taken enhanced health and safety measures. You agree to follow all posted instructions / guidelines and talk to your child about guidelines. By registering your child (children) for classes, camps, and events you voluntarily assume all risks related to exposure of COVID 19. *